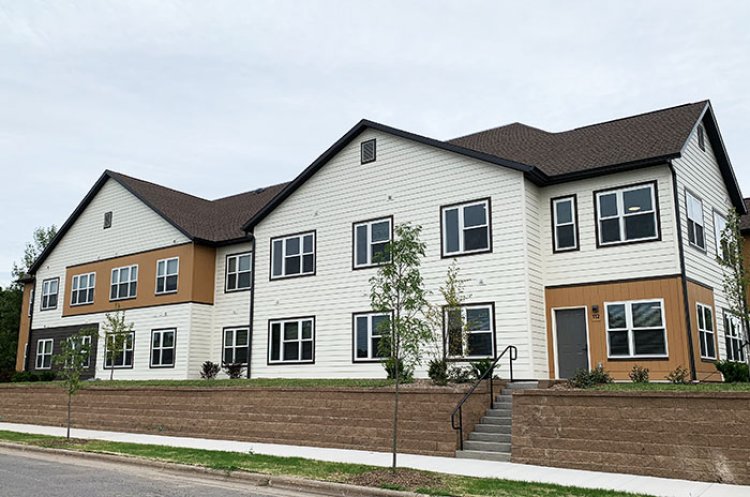 2021 Audrey Nelson award
Congratulations to the City of La Crosse and Impact Seven. They have been awarded the 2021 Audrey Nelson award. Borton Construction is proud to have been the general contractor for this development. It was a pleasure to work with Impact Seven, Inc. Here's the press release for more info:
City of La Crosse Community Development project wins national award
The City of La Crosse, in partnership with Impact Seven, Inc., a non-profit affordable housing developer, is proud to announce that the National Community Development Association (NCDA) has selected the Garden Terrace apartment project as a winner of the 2021 Audrey Nelson award. They are one of six cities that received this national recognition. The award recognizes outstanding community development projects and programs across the country.
Completed in 2019 and fully leased in 2020, Garden Terrace is a 50-unit apartment building on La Crosse's north side. Raised out of the flood plain, it includes 15 units of permanent supportive housing units for veterans who have experienced homelessness and a community center and green house, with shared space with the Hunger Task Force's Kane Street Community Garden. The remaining 35 units are a mix of income and bedroom sizes, creating new affordable housing in the La Crosse community. Case managers from the Tomah VA Medical Center and the La Crosse Housing Authority also were partners on this project for the veterans' units.
"The Garden Terrace apartments and community center is a phenomenal example of a multi-year and multi-partner endeavor, resulting in a new development out of the floodplain, new affordable housing including units set aside for homeless veterans, and a community center in conjunction with The Hunger Task Force and Kane Street gardens. La Crosse is proud to be honored for this project and I congratulate our citizens, the developer Impact Seven, the builder Borton Construction, staff and partners who made this incredible project a reality," said Mayor Tim Kabat.
This project, in which the planning started in 2016, faced several challenges, from obtaining all the necessary financing to complex building designs, construction challenges due to the land being in the 100-year flood plain. The City of La Crosse supported the project with $775,000 in HUD Community Development Block Grant, $136,000 in Tax Increment Financing, and a $40,000 grant through the Floodplain Relief Program. The HUD VASH vouchers also added additional complexity to the project.
"Impact Seven is a proud partner of the community's multifaceted efforts to address the challenges of homelessness and affordable housing in La Crosse. The veterans' units at Garden Terrace were made possible through the commitment of all partners involved, and represents a cornerstone of local efforts to eliminate veteran homelessness," stated Brett Gerber, President and CEO of Impact Seven.
The long-term success of the project, however, was truly demonstrated in speaking with the veterans now living there.
"When I visited with the residents, they spoke about how having a permanent home really restored their pride in themselves and brought them stability. Residents also spoke of the great sense of community they have their- which each of them helping each other out when someone needed furniture or a lift to the doctor's office," said Caroline Gregerson, Community Development Administrator.
Please Share Me On